12,000 BTU/h AC Enclousre
12,000 BTU/h AC Enclousre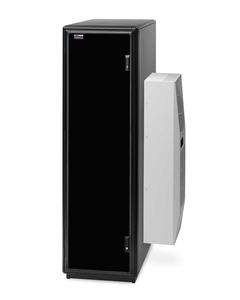 • 115V or 230V
• Earth Friendly Refrigerant
Advanced Air-Conditioned enclosures are specifically designed to completely control internal temperature. Air conditioned enclosures are generally for locations that do not have room air-conditioning or constant air-conditioning.
These may be located on a production floor, in a closet, or in an office where the air-conditioning gets turned off on the weekends.The Air Conditioned enclosures have an internal closed loop cooling system and the air that is used to cool the condensers is the ambient room air and is exhausted back into the room unless special ducting is set up to exhaust the hot air out of the room.
FEATURES:
• Side-mounted 12,000 BTU AC Unit (115v or 230v)
• Earth Friendly Refrigerant
• Mechanical Thermostat
• LED Temperature Display on Front Door Displaying in 'F' Degrees
• Optional Ducting Boot Kits available
• Cleanable, reusable aluminum mesh filter
• Includes Malfunction Switch
• Every unit tested prior to shipping
• Textured powder coat finish • Multiple color options
• Fully sealed enclosure assembly; closed loop air conditioned cooling.
• Square hole mounting rails
• US patent # 6,179,398
OPTIONS:
• Smoked Lexan ® or Solid Doors
• Heavy-duty casters available
• Power Distribution Units
FRAME INCLUDES:
• Patented high-performance aluminum extruded welded frame rated at 1,200 LBS with casters, 2,500 LBS without casters
• Air conditioner with malfunction switch and temperature display
• Base, casters, levelers, and 3 sets of EIA 310D standard "L" shaped square hole, M6 vertical mounting rails
Standard Dimensions: 81" H x 24"W (36" with ACU) x 45.5"D ( Optional Dimensions Available)
For more information call (800)-686-5312 or email: Sales@MainlineComputer.com